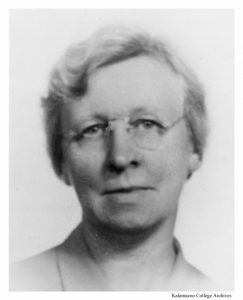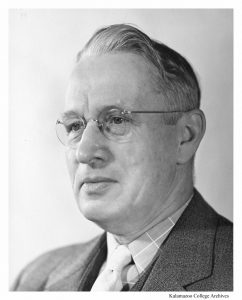 Frederick W. Heyl, was born in New Haven, Connecticut in 1885 to parents of comfortable means. After graduating from Yale's Sheffield Scientific School at the age of 19, he briefly operated a New Haven pharmacy before returning to Yale to earn his Ph.D. in chemistry. In 1913 he was hired to be the sole research chemist of the Upjohn Company, where he helped to grow Upjohn's research efforts to a multi-million dollar operation. When he retired in 1945 as Vice President-Research Director, he had contributed scientifically to some eighty research papers and patents while also teaching chemistry at Kalamazoo College. In 1937, he was awarded a Doctor of Science degree by Kalamazoo College.
Aside from his devotion to research which resulted in bringing about many discoveries in the steriod field, Dr. Heyl was also deeply interested in the education of young scientists. From 1923 until his retirement, he was the guiding light of the Upjohn Scholars Program at Kalamazoo College, by whose encouragement many of Kalamazoo's graduates went on to do advanced work at Yale University and elsewhere.
Between 1945 and 1968, Dr. and Mrs. Heyl devoted much of their creative energies to helping youth. Aware of the nation's growing needs in the scientific and medical workforce, the F. W. and Elsie L. Heyl Science Scholarship Fund was established through the will of Dr. and Mrs. Frederick W. Heyl to promote the education of young scholars in the fields of science and nursing. The first Heyl Scholarships were awarded in 1971 and until 2009, were available only to graduates of Kalamazoo Central or Loy Norrix High Schools. In March 2009, eligibility was expanded to include 2009 or later graduates of other high schools or home school programs who hold certificates of completion from the Kalamazoo Area Math and Science Center.